For today's posting I decided to check in with NASA's Earth observatory photo webpage at
http://earthobservatory.nasa.gov/
. It has been awhile since I have done so....
Iran Mountains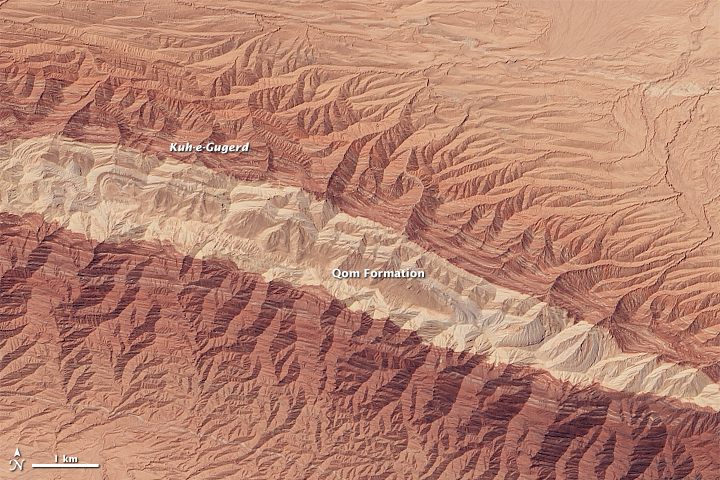 NASA Earth Observatory images by Joshua Stevens, using Landsat data from the U.S. Geological Survey. Caption by Kathryn Hansen.
Iran's Dasht-e Kavir (Great Salt Desert) is lined by the Alborz Mountains to the north and the Zagros Mountains to the south. Plate tectonic forces "wrinkled" this flat landscape into small, elongated mountains.
One such mountain is Kuh-e-Gugerd (Kuh-e-Gugird), which rises about 600 meters (2,000 feet) above the desert plain. The image was captured on August 14, 2015.
Kuh-e-Gugerd means "mountain of sulfur," The name is probably related to the gypsum (hydrous calcium sulfate) known to be there." Indeed, gypsum is present in some of the rocks visible at higher elevations (light brown in the image). But there is more in the mix: limestone, marl, and minor shale also contribute to what is known as the Qom Formation—marine sediment that was deposited in Iran tens of millions of years ago, during the Oligocene and early Miocene epochs.
The Qom Formation is also the oldest part of the mountain in this image. That's because the mountain is an anticline: rock that has been folded and then slopes away from the crest. The folding and subsequent erosion has exposed the oldest and once-deepest rocks of the mountain's core, which appears almost white in this image.
California Wild Fire Scars
In the false color photo below: Newly burned land has a strong signal in short-wave infrared bands, visible as dark red-orange areas. Unburned forests appear gray. Buildings are white.
NASA Earth Observatory images by Joshua Stevens, using Landsat data from the U.S. Geological Survey. Caption by Adam Voiland.
Devastation of the sort that the fast-moving Valley Fire unleashed rarely has a single cause. Long before the blaze started burning through Boggs Mountain State Forest, decades of aggressive firefighting—and too few prescribed fires—left the woodlands overloaded with brush and other fuel. Meanwhile, extreme drought over the past four years has sucked the forests dry of moisture, leaving the trees unusually combustible. An army of destructive bark beetles also has made the pine forests vulnerable.
So when a weather system delivered abnormally hot temperatures and gusty winds to Napa, Sonoma, and Lake counties in northern California, the forests were primed to burn intensely. The first spark likely came from a shed fire in the town of Cobb on September 12, 2015. Once it had escaped the shed, the fire spread with such speed and intensity that firefighters could do little to slow it. Within 48 hours, the inferno had burned an area twice as large as Manhattan as it raced southeast along ridges in Boggs Mountain State Forest toward the communities of Harbin Springs, Anderson Springs, and Middletown.
As flames pushed toward these towns, thousands of people were forced to flee their homes with little warming. In all, authorities report that 1,910 structures were destroyed, including many at a popular hot springs resort in Harbin Springs. At least three civilians lost their lives; four firefighters were injured. The Valley Fire has already become one of California's most damaging fires. Only two other blazes—the Cedar fire in 2003 and the Tunnel Fire in 1991—destroyed more structures.
Stormy Pacific
NASA Earth Observatory image by Jesse Allen with data courtesy of the NASA/NOAA GOES Project Science team. Caption by Adam Voiland.
A NASA satallite captured this image of one typhoon (Kilo), one hurricane (Jimena), one tropical storm (Ignacio), and one tropical depression (Fourteen E) churning simultaneously in the Pacific Ocean at 15:00 Universal Time on September 2, 2015. All of these storms are tropical cyclones at various stages of maturity. None of them currently threaten land.
Earlier this week, the three stronger storms (Kilo, Jimena, and Ignacio) made history as they paraded across the Pacific Ocean at Category 4 strength. The ongoing El Niño—a complex weather pattern characterized by warm sea surface temperatures in the central and east-central Pacific—is encouraging tropical cyclone development in the Pacific basin even as it inhibits storms in the Atlantic basin.
Typhoon Soudelor Seen from the ISS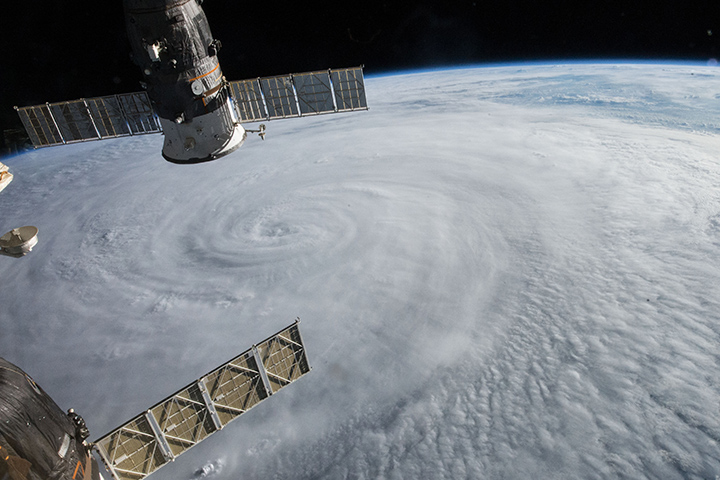 This photograph was from the International Space Station (ISS) taken on August 5, 2015, as Typhoon Soudelor advanced on Taiwan. Forecasters project that the typhoon will make landfall in central Taiwan early on August 8 as a category 3 storm. Sustained winds of around 160 kilometers (100 miles) per hour are expected for the northern half of Taiwan.